Fujitsu Laptop Repair Services In Singapore
Life always offers second chances. Your machine can be brought back to life too. On behalf of your dead or broken Fujitsu laptop, I ask that you may not dispose it just yet and give another trial instead. Do not throw away your laptop till you are certain it is completely useless. Get up, take that laptop in a backpack and take it to the closest Fujitsu laptop repair centre.
Had a xiaomi notebook pro which random start for no reason. Uncle William can tell that it is hard disk drive issue without even checking. He replaced the hard drive for me and i pick up within 24 hours. Recommended. Will visit him again if i have computer problems again.
Professional laptop repair at very reasonable price
Guillaume de Penanster
2021-10-02
I changed the battery on my Dell XPS 13 and the computer couldn't start anymore. Brought to Uncle William. He fixed it on the spot in 10mn. Fantastic Uncle William, will recommend to my friends. Thanks again!
Mr. Bradley Foisset
2021-09-29
William is a kind man who gives honest and prompt feedback. I have been to other repair centres and Laptop doctor has been the best. My computer was fixed and then even a follow up fine tune was provided! My macbook pro now works like new. I will be back to service my computers here. Thank you Laptop Doctor.
Mr William is very professional. He is honest and charges very reasonable cost.
Brought my Macbook Pro, which has been shutting down randomly and having problems booting up to Uncle William. He provided a free diagnosis and in less than 15 mins, he managed to diagnosed the exact part which was causing the problem. He advised to let him to try and repair the damaged part first and if that was not possible, to decide if i would like to have it replaced (which he recommended against as the replacement cost was quite expensive and not worth it). Thankfully, it didn't come to that as he managed to repair the damaged part within 2 days and the fee I paid was 25% of what I would be expected to pay if I had needed to replace the damage parts. Uncle William is very knowledgeable in laptop repairs and his repair rates are very affordable. More importantly, he gives his honest opinion about the state of your machine and doesn't try to hard sell his services. Would highly recommend him!
Excellent knowledge, quick service and really honest rates. No unnecessary "fixes" or shoddy parts Might take awhile to respond to messages during busy times.
William is well experience and efficient in his job
Fujitsu Laptop Makes And Models
When buying a new laptop, the Fujitsu brand is mostly a last option. The reason being it is not as common compared to other brands like Dell or HP. In cases of repair, the Fujitsu laptop offers original spare parts and are easy to get at any of their care centers. The common brands in the market are:

Fujitsu Siemens

Fujitsu Lifebook

Fujitsu Celsius

Fujitsu V5535

Fujitsu Esprimo

Fujitsu UH572M

Fujitsu S761

Fujitsu A530
 All the mentioned brands are just a few that you can acquire spare parts for.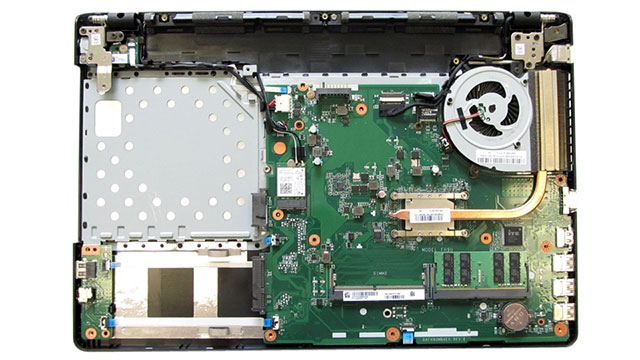 Repair Services
The common repairs which the Fujitsu laptop requires involve;
Overheating

Broken hinges since some laptop screens can rotate 360 degrees

Battery repair

Cracked LCD/LED laptop screens

Keyboard repair

Fluid damage repair

Laptop reformat services

Laptop fan cleaning services

RAM upgrades

Hard drive repair
Your laptop may just need a quick fix or simple software systems updates. Run diagnostics and find out the route of your laptop problems. Over here at LaptopDoctor.com.sg, we offer free diagnostics tests before commencement of any repair services. Walk in to our laptop repair shop during our operating hours for have your Fujitsu machines tested by our specialist.
Singapore has laptop repair centres around every corner and I can assure you that there is definitely one or two near you. Don't just leave your laptop unless you are certain you can trust them. Some of these repairs can be done and you get the laptop on the same day. Others may require patience as they have to find and buy the parts that need to be replaced. One of the top Fujitsu laptop repair centres offering repairs in Singapore for Fujitsu laptops is LaptopDoctor.com.sg.
The cost of getting your laptop fixed is a whole lot cheaper compared to purchasing another computer. Averagely it would cost you less than $600 to pay for the necessary part and inclusive of the labor. The parts available in the market are of good quality.

The Fujitsu brand of laptops is not one of the famous brands on everyone's' mouth but it is a great brand to work with. For those of us who own one can attest to the good quality of their laptops. If it breaks or dies on you, give it another try and fix it. With good care constant updates and occasional servicing, the Fujitsu laptop will show what it truly is capable of.
All product and company names are trademarks™ or registered® trademarks of their respective holders. Use of them does not imply any affiliation with or endorsement by them.
Apple, Mac, MaBook, MacBook Pro, MacBook Air, iMac, Mac Mini, Mac Pro, iPod, iPod touch, iPad and iPhone are registered trademarks of Apple Inc., registered in the U.S. and other countries.